TRENDING HOTELS & VILLAS
28.08.2023
Crete with Kids
O
Our Travel Scout Mirjana travelled to Crete with her husband and son and tested the family-friendly and eco-conscious resort Village Heights for us.
Written by: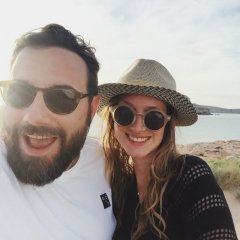 Mirjana & Philipp Bernstorf
Travel scouts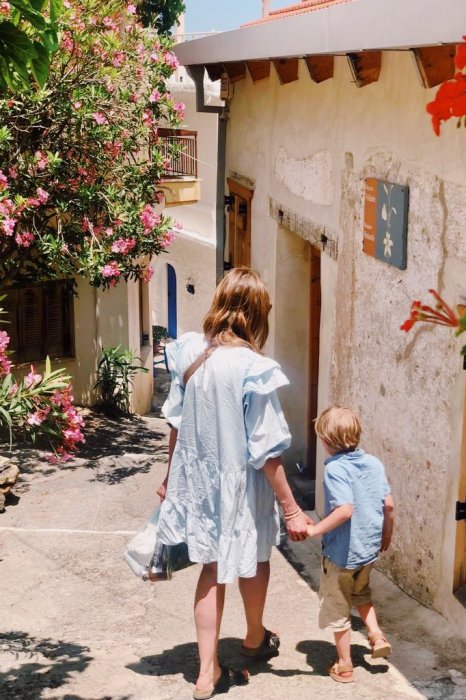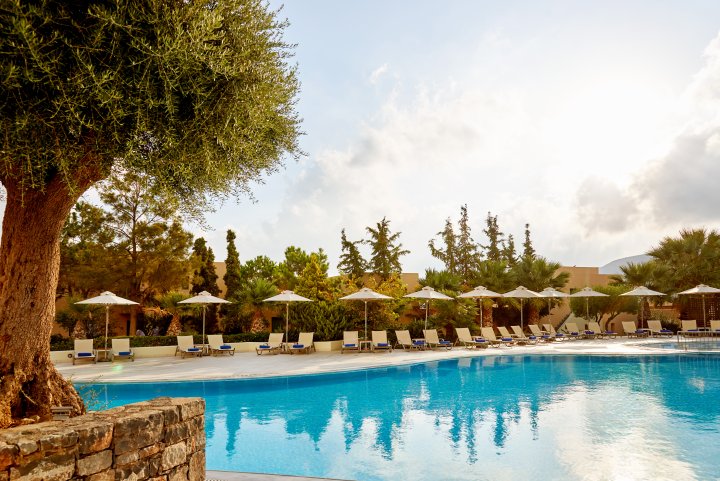 Pomegranate trees, thyme bushes, and lush rose flowers fill the grounds of Village Heights Resort with a unique fragrance. Nestled in the hilly Cretan landscape of the northern coast, this eco-friendly apartment hotel is situated above the town of Chersonissos, away from the tourist hustle and bustle. An ideal starting point for family excursions to the picturesque Lasithi Plateau with its charming mountain villages, impressive gorges, and countless olive trees, to try meze in traditional taverns, or to swim in one of the turquoise coves.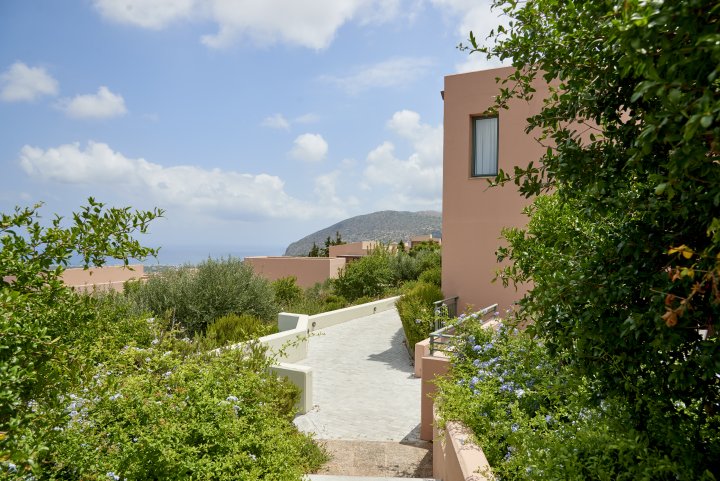 The resort offers the perfect blend for families seeking comfort, service, and a bit of high quality entertainment for children. Terracotta-colored bungalows blend naturally into the expansive garden landscape and provide ample retreats for relaxation. Especially when children are happily splashing in one of the two children's pools, painting stones in the kids' club, playing mini golf, or enjoying an ice cream at the pool bar.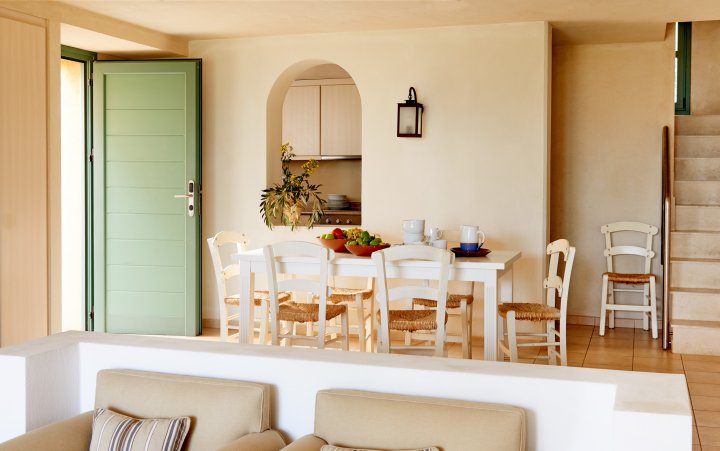 The apartments, which are perfectly tailored to different family sizes, all have a well-equipped kitchenette with coffee maker, microwave and dishwasher. Flexible booking solutions are offered: from simple overnight stays to all-inclusive, guests can easily book the option that suits their family constellation.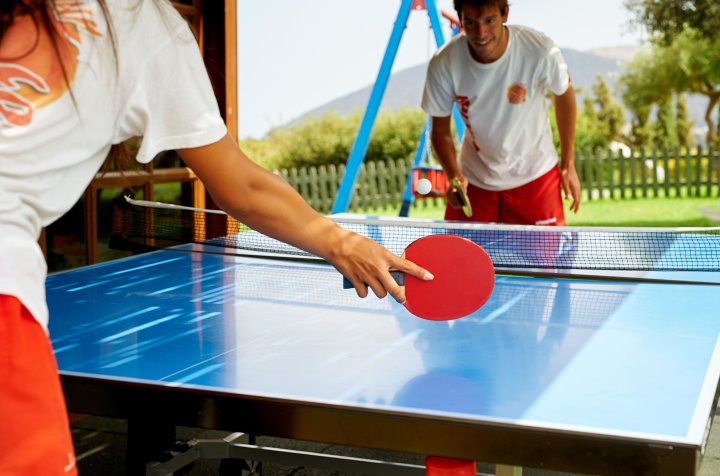 But there is also plenty on offer for parents. Relaxation is offered by yoga classes and spa treatments with healing scrubs made from local herbs. Those who prefer getting a bit more active, will enjoy the tennis court, gym or play volleyball or table tennis. For the younger guests, there is a lovingly devised animation program in the Kids Club. They paint stones, play mini Olympics and make things with salt dough. Children can borrow sand toys and landing nets. The small playground is fenced in and has baby swings. Another highlight is the cat café - here the resort cats romp around to the delight of the children. The resort has two swimming pools. Both pools offer a separate children's pool.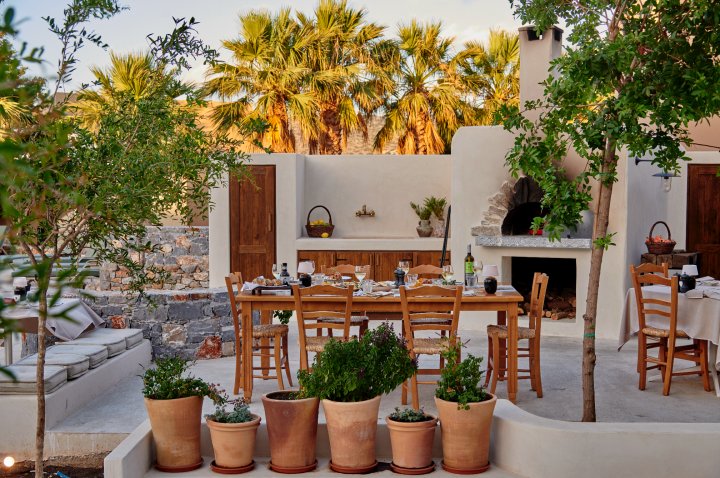 Culinary options for guests include a buffet restaurant, an authentic Cretan restaurant and the Veranda restaurant Elia with views of the mountains and the Mediterranean. The obligatory Greek salad is a constant presence in every meal and tastes excellent even at breakfast. Children are particularly delighted with pancakes topped with Greek yogurt, fresh fruits, and honey. An evening at the new Rodies Restaurant is recommended. Tasty dishes such as grilled octopus or lamb with local vegetables are prepared over an open fire in the "parastia" style by the pool. Afterwards we recommend a typical coffee at the adjacent Kafenio Café is a must. This coffee is prepared in hot sand beds and pays homage to Greek culture.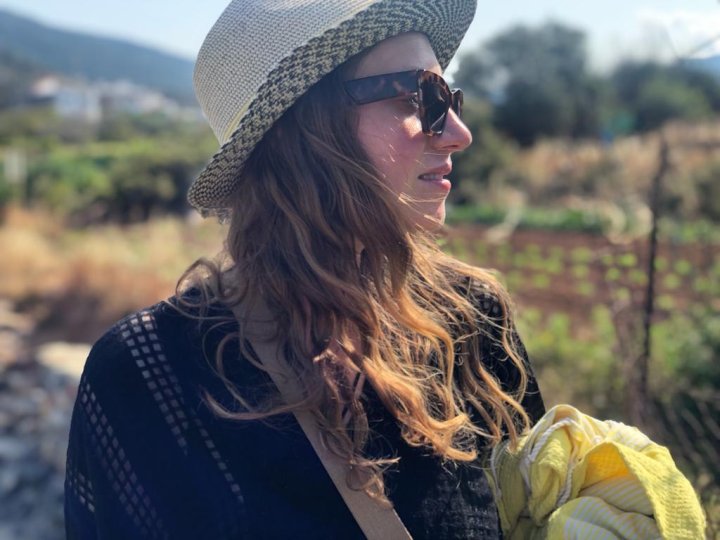 Good to know
Arrival & mobility
It is essential to rent a car. Especially if you want to go on excursions. We recommend a tour into the mountains to feed the goats and to collect wild flowers. The most beautiful view over the plateau is on top! The village of Kritsa about nine kilometres from Agios Nikólaos is particularly worth seeing. The airport is only 20 minutes away, which is super convenient for getting there and back. However, every now and then an airplane is in view - which makes the children very happy, but might disturb some adults who are particularly in need of peace and silence.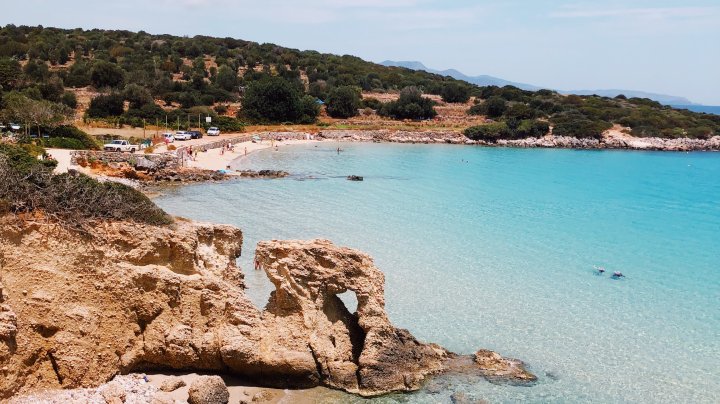 Our Insider tips
Voulisma Beach
This beautiful bay is a 45 minutes drive away from the resort. The sea is turquoise and the white beach has sunbeds with umbrellas in two categories (10-20 €). There is a small beach hut and the hip beach bar Makramee above the rock. Besides typical Greek salad, they serve good sushi. The beach bar also has a small beach area with particularly nice umbrellas in the macramé look.

Beachcomber in Stalis. Nice beach club and bar that collaborates with the hotel. You can reserve sunbeds and go there for lunch.

Kritsa
The mountain village of Kristsa is considered the largest village in Crete and is known for its white houses and hillside location. There is a women's cooperative for local produce right by the car park. Homemade fig jam, olive oil and sweet pastries should definitely be in your luggage.
Cretan herbs, Greek mountain tea and natural cosmetics can be purchased at Latia Hora in the Spice Shop.
Fresh juices, sandwiches, pizza and healthy snacks are available at Anastasia's Juice Bar. Also the perfect spot for getting a healthy snack for the beach.


Chersonissos
If you want to eat seafood like the locals, stop by Akrogiali Seafood in Chersonissos. The taverna's speciality is air-dried octopus and octopus variations.
Spinalonga Island & Plaka beach
The uninhabited Island of Spinalonga is located in the Gulf of Elounda and is one of Crete's most famous tourist attractions. Boats leave from Plaka Beach.
Plaka's pebble beach itself is a beautiful spot to spend the day. For lunch or dinner we recommend Ostria restaurant, for simple and authentic fish and seafood dishes.

Agios Nikolaos
With a wonderful port area, tree-lined pedestrian streets, a few nice boutiques, cobalt blue waters and a small lake (called Lake Voulismeni) surrounded by restaurants and rocky cliffs, Agios Nikolaos is a must-see destination if you are spending your holiday in the area. For restaurants we recommend: Gioma Meze
For bookings and more information, email us at hello@niche-traveller.com or contact Village Heights Resort directly.

You want more inspiration. Here you will find an overview of our family-friendly destinations.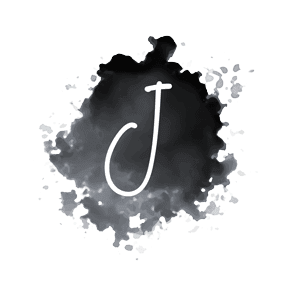 INSIDER TIPS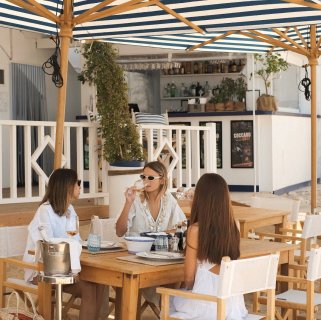 Next article