Why this experience?
Transylvania and the Carpathian Mountains are a little like time travel, or stepping into a fairytale. Medieval villages nestle in the valleys of Southern Transylvania, where animals wander the streets, while the vast, ancient forests of the mountains are home to the largest numbers of brown bears in Europe, as well as wolves, bison, wild boars, beavers and birds galore. Families will enjoy hiking through forests with an expert wildlife guide, and driving up to the Transfăgărășan and Transalpina roads, which offer breathtaking views over endless, rolling forests. The old Saxon villages, meanwhile, provide a glimpse of how Europe used to be – a sustainable way of life where people and nature happily coexist.
Why is it perfect for families?
Transylvania and the Carpathian Mountains are an unspoilt natural playground, perfect for exploring as a family. Pull on your hiking boots and go out into the wild to spot bears, wolves and eagles. Enjoy a horse-drawn cart ride through hay meadows and take in peaceful landscapes that you'd thought no longer existed in Europe. This family holiday is all about exploring ancient villages and true wilderness together, learning about sustainability and rediscovering our roots.
Where we offer this experience:
Our tailor-made Rewilding experience in Transylvania and the Carpathian Mountains in central Romania can be arranged in different places and can also be organized as a tour. As a starting point or accommodation for the entire stay we love the luxury country estate with two separate buildings, that is due to open this spring 2021 (hotel review attached). Or the well known Zabola, a 16th-century family castle set on a sprawling estate. The beautiful, individually-designed rooms overlook the landscaped gardens, rolling meadows and wildlife-filled forests. There are all sorts of adventures on offer, from hiking trails and bear-watching tours, to horse-drawn carriage rides through the countryside.
Niche Junior says
We value our kids opinions - which is why we introduced Niche Junior, giving our little travellers a platform:
I loved the Romanian food, and I was impressed by the Liar's Bridge in Sibui – legend says that the bridge is supposed to collapse under your feet if you dare to tell a lie while standing on it! I also liked the wildlife and picking wildflowers. The hotels were fun to explore, especially the old manor houses.
– Robert, 5, and Leonard, 3, from Austria
Where to stay?
We´ve personally visited every one of our sustainable and stylish properties, finding the very best family hotels and villas.
This experience brought to you by: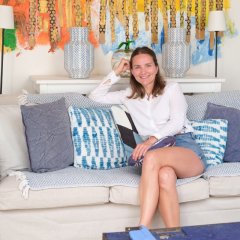 Alexandra Cohal
Travel Scout
Learn more
Join The Club and get access to our tailor-made travel consulting. We provide detailed information for each of our carefully curated family experiences.