Why this experience?
Play lighthouse keeper at this 150-year-old active lighthouse, a truly unforgettable family holiday experience. Faro Cumplida has been lovingly restored and now features cutting-edge chic interiors, a breathtaking infinity pool and extraordinary Atlantic Ocean views – with La Palma's famous banana plantations and wild coastline on your doorstep. It can be taken by room or as an exclusive rental, perfect for larger groups or families. The door to the lighthouse look-out is always open, with a circular terrace and chairs offering incredible views of wild waves tumbling against the jagged cliffs. Faro Cumplida also has a yoga platform in the lush garden filled with indigenous plants.
Why is it perfect for families?
The lighthouse is ideal for multigenerational holidays, best suited to children aged six and over. Three stylish rooms, as well as the on-site private infinity pool and variety of activities in the area, will keep everyone happy, while the remoteness of the location offers excellent bonding time.
Where we offer this experience:
Faro Cumplida is an active lighthouse on La Palma´s north-eastern-most point. La Palma, the greenest of the Canary Islands, off northwestern Africa, is known for its gorgeously varied landscapes, with deep forests, towering volcanoes and waterfalls. The island's capital is Santa Cruz de la Palma.
Niche Junior says
We value our kids opinions - which is why we introduced Niche Junior, giving our little travellers a platform:
The lighthouse challenge is great fun: you have to climb up the 149 steps in under one minute. And the views at the top are fantastic, but maybe not for those who are scared of heights... There's a small island next to the lighthouse called Puerto Talavera, used only by fishermen, so perfect for playing and exploring. This is the first time we've stayed in a lighthouse, and it was amazing, especially at night-time when the place is shining.
– Arturo, 11, from Germany
Where to stay?
We´ve personally visited every one of our sustainable and stylish properties, finding the very best family hotels and villas.
Hotel

Spain

Faro Cumplida

La Palma, Spain

We love: the 149 steps look-out with an amazing view, the spectacular scenery of the wild Atlantic ocean, the lovingly renovated and refurbished 150-year old lighthouse, the chic and comfortable decor, the modern and sleek additions like the private infinity pool.
This experience is featured by: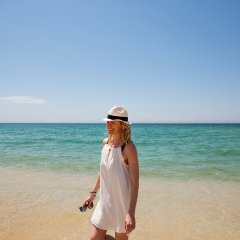 Kerstin Bognár
CEO and Founder
Learn more
Ask us about Lighthouse Hideaway La Palma or our other experiences. We provide detailed information so you can decide which one is the best for you and your family.