Why Usedom?
Split between Germany and Poland, Usedom was historically one of northern Europe's most stylish holiday spots, attracting Hollywood stars along with the great and the good from Berlin and elsewhere. Today, that faded glamour is irresistible, with beautiful old villas surrounded by lush gardens, and grand hotels overlooking the elegant promenade. The long, white-sand beaches, meanwhile, are dotted with traditional wicker chairs and look onto fine, historic piers pointing out into the ocean.
Why is Usedom perfect for families?
The beaches are the main draw, offering endless white-sand expanses to explore. Days can happily be spent pottering along the promenade, while more adventurous families will enjoy heading out on the waves in White Dune, a traditional sailboat, or an island nature tour with Rudi Dargel, or even at a fun photography workshop with Henry Böhm. Don't miss the Ahlbeck pier, dating back to 1898, with a restaurant and 280-metre-long footpridge piercing into the ocean. For rainy days, the Chapeau Rouge theatre at the beach in Heringsdorf offers several performances throughout the day.
Reviewed by: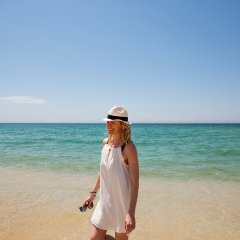 Kerstin Bognár
CEO and Founder
Dive deeper
We know our destinations from top to toe. Get in touch and we´ll put together your perfect holiday plan.
Where to stay in Usedom?
We´ve personally visited every one of our sustainable and stylish properties, finding the very best family hotels and villas.