Sylt Island with Kids – The Best Hotels and Insider Tips
Why Sylt?
Sylt has long attracted a long list of famous faces, from Thomas Mann and Marlene Dietrich in the 1920s, to Gunter Sachs and his wife Brigitte Bardot who brought the jetset in the 1960s. A sense of that old-school glamour lingers, although in a welcoming low-key, barefoot way. Visitors now come for the 40 kilometres of unbroken beach, the finest white sand, and the truly breathtaking landscapes of dune and heath and endless sea.
Why is Sylt perfect for families?
There are awe-inspiring walks around the southern tip or northern Ellenbogen, and nature tours along the inlets of the Wadden Sea. Head to Südkap Surfing or Sunset Beach for surf lessons on the rolling breaks, or try your hand at windsurfing, kite-surfing and stand-up paddle-boarding. The fascinating exhibitions at Erlebniszentrum Naturgewalten in List include everything you need to know about oysters – then go and try some at Dittmeyer's Oyster Company or on the deck of LA Lister Austernperle, overlooking the beach. In winter, a long beach walk is best finished with a delicious meal in Sansibar or Seepferdchen, while a summer's day on the sand should end with a sundowner at the beach bistro Buhne 16.
Reviewed by: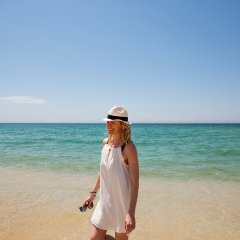 Kerstin Bognár
CEO and Founder
Dive deeper
We know our destinations from top to toe. Get in touch and we´ll put together your perfect holiday plan.
Where to stay in Sylt?
We´ve personally visited every one of our sustainable and stylish properties, finding the very best family hotels and villas.