Best Tips for family vacations in Sicily
Why Sicily?
The island is truly an open-air museum on its own, with most of the island's attractions being cultural or scenic. Endless stretches of mostly undiscovered, beautifully wild beaches with crystal-clear waters are an invite for relaxing walks. Sneak into the main cities and coastal towns in the north and south, which are perfectly visited with a rented car, dropping in and out. For more hidden gems discover the Egadi Islands just a few miles off the coast of Trapani, reached by ferry. The three islands boast a long history but have somehow remained largely unchanged over the years. In Sicily, it is still possible to discover isolated bays, deserted mountain paths and a very relaxing way of life.
Niche Junior says
We value our kids opinions - which is why we introduced Niche Junior, giving our little travellers a platform:
Our vacation in Sicily was quite adventurous. We woke up one morning and saw the Etna smoke. That was incredible. The fish tastes delicious everywhere, the sea is great for swimming and after we visited the Greek and Roman temples in Agrigento we discovered an amazing beach with white cliffs.
– Elisa, 12, from Germany
Why is Sicily perfect for families?
Family life is highly valued in Sicily. The biggest of the Mediterranean islands is strikingly beautiful and its coastal regions are an obvious attraction. The Verdura Resort by Rocco Forte is a perfect home for families who what to combine sightseeing (the temples in Agrigent are a must) with a luxury holiday experience. For the more adventurous, a slow journey through rural Sicily and a stay at some of its wonderful agriturismo farm stays give an extra insight into one of Europe's most fascinating corners. Food is, of course, a big part of the agriturismo Sicily experience, and you'll find a lot of the traditional food here a little different - enjoy seafood, vegetables, fruit, nuts and herbs in their dishes.
Reviewed by: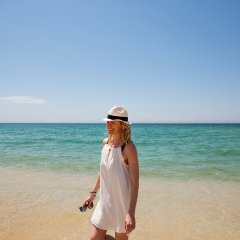 Kerstin Bognár
CEO and Founder
Dive deeper
We know our destinations from top to toe. Get in touch and we´ll put together your perfect holiday plan.
Where to stay in Sicily?
We´ve personally visited every one of our sustainable and stylish properties, finding the very best family hotels and villas.