54°40'N 9°56'E
Schlei Fjord
Why Schlei Fjord?
The Schlei winds its way from Schleswig through a watery green landscape, past fairytale villages, to the Baltic Sea. This is a place to pootle about on a bike, taking in the thatched farmhouses, stopping at a hidden beach, or barrelling through flower-filled meadows. Much of the area around the Schlei is protected, with various nature reserves ensuring wild, wildlife-filled landscapes – the birdwatching here is wonderful. Don't miss the pretty town of Arnis (the smallest town in Germany), from where you can take the ferry to the Schwansener side of the fjord. From here, it's an easy cycle up along the fjord, with every little village offering a place to stop for an ice cream, slice of cake or glass of wine. With shallow, calm waters, the Schlei is also great for watersports, offering fantastic sailing conditions, as well as everything from windsurfing and stand-up paddle boarding, to kayaking.
Why is Schlei Fjord perfect for families?
The peninsula between the Schlei and the Baltic Sea is crammed with little gems just waiting to be discovered – and that's all part of the adventure. Families can hire bikes and head off into the countryside, where the winding roads are dotted with crossroads leading to a pretty village, a fascinating historical site or a secluded beach, perfect for a picnic. Hünengrab in Karlsminde, for example, is a series of Neolithic tombs, once believed to be the burial site of giants – it was thought that only they could transport the 108 boulders which surround the tomb. The impressive 16th century manor house of Gut Ludwigsburg, surrounded by water, is also worth a visit. Its café at the Alte Räucherei serves delicious homemade cakes, while the farm shop lets you stock up on treats to take home. From here, a road leads directly to the Baltic Sea, offering endless beach walks.
Reviewed by: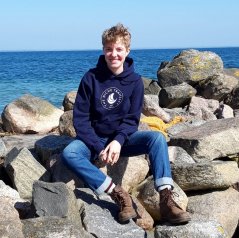 Josephine Bartels
Content Team & Travel Scout
Dive deeper
We know our destinations from top to toe. Get in touch and we´ll put together your perfect holiday plan.
Where to stay in Schlei Fjord?
We´ve personally visited every one of our sustainable and stylish properties, finding the very best family hotels and villas.