Why Rügen?
With its rich historic background, Rügen is not only easy to reach by regional and intercity trains but is also closely linked to some of the greatest German artists. Brahms famously composed his Symphony No.1 on this island where nature drew its own features along the years. Make sure to see the fascinating chalk cliffs Caspar David Friedrich incorporated in his paintings, but do also take the time to explore the island. In the south-eastern part of Rügen you should visit the village of Baabe with its old thatched fishermen's houses, that have been lovingly restored. A special attraction in Baabe is the "Rasender Roland" - a steam-operated narrow-gauge railway that runs every hour. Rügen offers a closely guarded nature, that can also be discovered near Prora in a tree-top walk leading to the Adlerhorst lookout.
Why is Rügen perfect for families?
With approximately 200km of bike trails, cyclists of all ages will be able to enjoy the peaceful and harmonious landscape of the island. Some areas are completely car-free and allow an easy and relaxed exploration while preserving the nature. After an intense day of hiking or biking, you can go for a swim at one of the fine sand beaches that run for 60km. You may also discover little fossils between the stones of gravel beaches. The mysterious ruin of the Dwasieden Castle near Sassnitz could also satisfy the curiosity of a little explorer or two.
Reviewed by: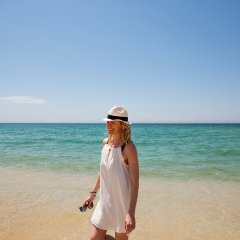 Kerstin Bognár
CEO and Founder
Dive deeper
We know our destinations from top to toe. Get in touch and we´ll put together your perfect holiday plan.
Where to stay in Rügen?
We´ve personally visited every one of our sustainable and stylish properties, finding the very best family hotels and villas.