Discover São Tomé and Principe with your family
Why Principe?
Travelling to Príncipe feels like entering the first gate to paradise, immersing yourself in an untouched, dense and diverse landscape unlike anything you've seen before. You will encounter supernatural trees with roots as big as elephants, and flowers and fruits from another world, in colours and shapes so unique you cannot believe they are real. You will find yourself basking on one of the many pristine beaches, where you can pluck the coconuts directly from the trees. After daydreaming on golden sands, refresh yourself under a crystalline waterfall or take a crisp swim in the blue ocean. It´s hard to believe, but scarcely anyone knows about São Tomé and Príncipe. Until its independence in 1975, the tiny island nation in the Gulf of Guinea off the western coast of Africa was a Portuguese colony.
Why is Principe perfect for families?
Compared with other parts in Africa, Principe is fairly safe. Only a short time after Príncipe was named a UNESCO Biosphere Reserve, British-South African software billionaire Mark Shuttleworth launched his 100 million dollar investment to realise his dream of a sustainable tourism project on the island of Príncipe, simultaneously offering 7,000 residents a long-term perspective. His projects, which include three of the most beautiful accommodations on Príncipe, promote eco-tourism, sustainable land use, and professional education of locals as hotel and kitchen staff. This is why you don´t have to worry about safety reasons on Principe. But nevertheless we normally don´t recommend this destination to families with smaller children.
Reviewed by: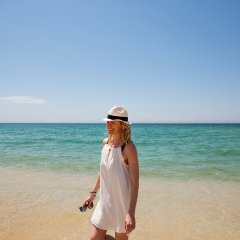 Kerstin Bognár
CEO and Founder
Dive deeper
We know our destinations from top to toe. Get in touch and we´ll put together your perfect holiday plan.
Where to stay in Principe?
We´ve personally visited every one of our sustainable and stylish properties, finding the very best family hotels and villas.