Paros with Kids – The Best Travel Tip´s
Why Paros?
Quieter than Santorini and calmer than Mykonos, lesser-known Paros offers a captivating Cyclades escape that ticks all our Greek boxes. Calm bays, crystal-clear water, pretty white-washed towns, delicious seafood, stylish shops and gentle landscapes just made for walking – Paros holidays are perfectly laid back and family friendly. The sugarcube town of Naoussa is worth several visits, lined with pretty boutiques to stroll around before relaxing on a shady blue-and-white restaurant terrace, taking in the comings and goings of the harbour and sampling the freshest seafood. The beaches are all beautiful, but one of our favourites is the postcard-perfect golden-sand arches of Kolymbithres near Naoussa, with natural coves formed out of the granite rock, made for exploring by kayaks. Chrissi Akti, also called Golden Beach, and Pounda Kite both have excellent wind conditions, making them popular for windsurfing and kitesurfing. But the real magic of Paros lies inland, in mediaeval villages such as Marpissa, with its famous Agios Antonios monastery, and Lefkes, situated on a pine-covered hill.
Why is Paros perfect for families?
Paros provides a much calmer, more relaxed alternative to better-known islands in the Cyclades, making it extremely family friendly in comparison. Many of the small villages, as well as the harbour towns, have car-free pedestrian zones, ideal for stress-free exploration. The beaches are mostly calm and shallow, and there's lots to do, from snorkelling in crystal-clear coves to having a kitesurfing lesson. Our favourite place for a day away from the beach is Naoussa, in the north of Paros. Take your time and explore the winding, cobbled alleys of this white-washed town, popping into a local café for an iced coffee, pausing for ice cream by the town square, browsing the pretty jewellery shops and chic boutiques, and enjoying a long lunch by the harbour, where the kids can explore the boats. A drive to the north-western tip of the island takes you to Paros Park – part-nature reserve and part-cultural hub – which offers great hiking and in summer hosts cultural events, is also great for families. And don't miss an early morning hike to Cape Korakas, overlooked by a 19th-century lighthouse on a 60-metre-high cliff – the views in the fresh morning light are well worth the effort.
Reviewed by: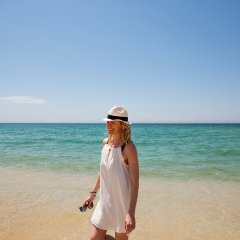 Kerstin Bognár
CEO and Founder
Dive deeper
We know our destinations from top to toe. Get in touch and we´ll put together your perfect holiday plan.
Where to stay in Paros?
We´ve personally visited every one of our sustainable and stylish properties, finding the very best family hotels and villas.