Why Paris?
The good thing with Paris is, that you don't need a sightseeing program. It is beautiful wherever you go, so just stroll around and feel the romantic vibe. The Jardin des Tuileries and its nice playground is a happy place with kids, but you will also love the hipper places like the Canal Saint Martin in the 10th Arrondissement or the Haut Marais in the 3rd. On Rue de Bretagne you can see the effortless Parisian chic on every corner. And if you are looking for an easy place to eat, grab some food at the Marché des Enfants Rouges or have some delicious pastries at Bontemps. Also you should check out Bonton on Boulevard Beaumarchais, it is the coolest kids shop ever, and they have adult clothes, too. If you have time you should have picnic at the Parc des Buttes Chaumont, one of the most beautiful parks of the city. There at Pavillon Puebla they have kids animation every Sunday afternoon and from the dreamy hills of the park you can see beautiful Sacré Coeur in the distance.
Niche Junior says
We value our kids opinions - which is why we introduced Niche Junior, giving our little travellers a platform:
"Paris feels like a huge playground. Buildings look like castles with golden ornaments and everywhere you go there is something new to discover. I loved climbing up the stairs of Montmartre to visit Sacré Coeur. From up there you can see the whole city and even the Eiffel Tower."
– Adèle, 7, from France
Why is Paris perfect for families?
First of all: Paris is smaller than you think. Many places are in walking distance and especially if you have a stroller you should forget the Métro and discover Paris by foot. So much easier and so much more to see! Go for a walk from Notre Dame to the Jardins des Plantes alongside the Seine for example and discover the Galérie de Paléontologie. Your kids will love the beautiful building of the 19th century and all those animal skeletons. Than have a break at the Grande Mosquée, have a delicious Couscous or just drink some sweet black tee, before you head to the Arènes de Lutèces, the most ancient Roman remains of the city.
Reviewed by: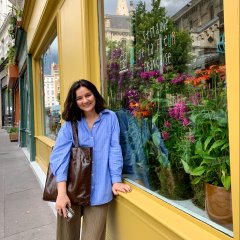 Juliane Clüsener-Godt
Travel Scout
Dive deeper
We know our destinations from top to toe. Get in touch and we´ll put together your perfect holiday plan.
Where to stay in Paris?
We´ve personally visited every one of our sustainable and stylish properties, finding the very best family hotels and villas.