39°42'N 3°6'E
North East Mallorca
Why North East Mallorca?
Peaceful and still laidback! While the rest of Mallorca has become very touristy, the north-eastern part of the island has kept its original charm and tranquility. It is here where you find the most astonishing beaches and charming old villages. Stroll around the weekly market and picturesque streets of Arta, drink a freshly squeezed orange juice under Bougainvillea trees or check out one of the cool vintage and art stores of the village. For a chilled beach break spend your day at Costa de los Pins, a natural beach strip where you can eat the best Calamari on the island at the fabulous Bar Playa or enjoy cold drinks and a snack with your feet in the sand at Ponderosa Beach. For delicious seafront dinners stop by Colònia de Sant Pere, an old fishing port with a unique vibe. Here local restaurants keep their catch fresh in the natural sand-and-limestone seawater pools which are carved into the rock and serve some of the best sea food of the Balearic island.
Niche Junior says
We value our kids opinions - which is why we introduced Niche Junior, giving our little travellers a platform:
I loved jumping into the big pool of our Finca again and again and eating ice cream out of a real orange while swinging in the big hammock. Together with my mother I went horseback riding with a guide through the pine forest and on the beach, we felt like real cowboys.
– Karla, 7, from Germany
Why is North East Mallorca perfect for families?
North-East Mallorca is a true nature paradise and perfect for families who like to spend their holidays away from the crowds. Its nature reserves are the ideal spots for hiking trips and bike tours. Explore Cala Torta, a hidden laid-back bay with crystal clear water in the middle of nowhere. The scenic way to the beach follows through mountain landscapes with breathtaking views. Right on the shore of Cala Torta there is a tiny shack - a magnificent beach bar which offers sensational food. Besides swimming and daydreaming, a hike with the family along the untouched coastline, passing blue coves and a small chapel is a real highlight.
This destination is featured by: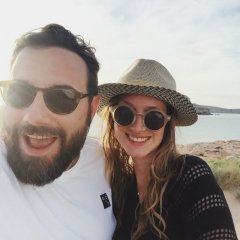 Mirjana & Philipp Bernstorf
Travel scouts
Dive deeper
We know our destinations from top to toe. Get in touch and we´ll put together your perfect holiday plan.
Where to stay in North East Mallorca?
We´ve personally visited every one of our sustainable and stylish properties, finding the very best family hotels and villas.
Hotel

Spain

Curolla Hotel

Maria de la Salut

We love: Beautiful family friendly hotel with very attentive service in a tranquil countryside location. Tastefully Mediterranean furnished rooms with a nice garden and pool area create a relaxed and quiet atmosphere. Breakfast is super delicious and leaves nothing to be desired.

Hotel

Spain

Finca Ses Set Cases

Capdepera

We love: Impressive historique finca embedded into the peaceful Mallorcan countryside of Capdepera. A magic place surrounded by olive trees and almond orchards, the fragrance of lavender and figs grounds you the moment you arrive. It is the perfect hideaway to relax and spend time with family and friends. Wide open doors, a long table on the porch, a deep blue pool surrounded by comfy sunbeds and amazing all over views!