Menorca with Kids – Best Travel Tips
Why Menorca?
For families wanting to spend quality time together in simple yet elegant surroundings, Menorca is the perfect choice. With beautiful beaches, Caribbean-blue waters and wild, untamed nature, the smallest of the Balearic Islands is often overlooked by its better known neighbours – and that's why we love it. There are a lot of hidden gems on the island but the bar with the most extraordinary location is Cova D'en Xoroi . Sip cool drinks when the sun is up and enjoy live music when it sets in the evening.
Niche Junior says
We value our kids opinions - which is why we introduced Niche Junior, giving our little travellers a platform:
The pancakes at breakfast were so tasty and I loved our house. Most fun was picking vegetables in the garden all by myself and catching small crabs and fish with the landing net on the wild beach. I liked the restaurant on the beach with the big fire and the grill.
– Leo, 5, from Germany
Why is Menorca perfect for families?
Explore by day, discovering deserted, Robinson Crusoe-style bays that can only be reached by boat, and at night stay in chic, authentic hotels, known for their relaxed, family-friendly approach. The flight time from mainland Europe and the UK is short, and there is a huge range of activities to keep kids of all ages busy; the entire island is a UNESCO Biosphere Reserve. Not only is Menorca rich of breathtaking nature but also of cultural energy - the famous art gallery Hauser & Wirth Menorca will open an arts center planned to open on Isla del Rey, located in the port of Mahon in Menorca. Stroll around Ciutadella and Mahón, which is known for the worlds second largest natural harbor, discovering the islands rich historic background.
Reviewed by: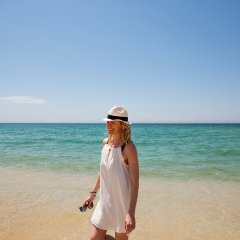 Kerstin Bognár
CEO and Founder
Dive deeper
We know our destinations from top to toe. Get in touch and we´ll put together your perfect holiday plan.
Where to stay in Menorca?
We´ve personally visited every one of our sustainable and stylish properties, finding the very best family hotels and villas.