Why Lübeck?
The medieval city in the northernmost state of Germany, Schleswig-Holstein is called the "Venice of the Baltic" as it was built on an island surrounded by the Trave river. The old town is rich in history, with a skyline of seven gothic-style church towers and significant medieval buildings surrounded by the old city walls. Lübeck has its origin as a major port close to the Baltic sea. Stroll around the old town and come across the Mengstraße with its famous buildings as the Buddenbrookhaus or the Berkentienhaus. Here is where you'll find art galleries and charming restaurants and feel the heritage of Hanseatic League. Or travel back in time by visiting the St Annen Museum, which contains Germany's largest collection of medieval sculpture and altarpieces. And don't miss the Gänge, small streets off the bigger roads, mostly undiscovered and untouched, providing a special atmosphere with their small and crooked buildings.
Why is Lübeck perfect for families?
Beyond the history, there's another big draw especially for the kids: its reputation as the home of marzipan. You can visit the 200-year-old Niederegger Café and Marzipan Salon where you will find the sweet in every shape, colour and size. There are no long walks in Lübeck as the city calls itself the "place of short distances". You will find small streets with slow or no traffic, which makes it easy to spend an afternoon strolling around for sight-seeing even with small kids. To see the town from a different angle enjoy a boat trip on the Trave or the Wakenitz starting at Moltkebrücke. Find yourself floating through calming nature taking time off from city life. Stay outside the city walls at Gut Mönkhof in the south of Lübeck, which is the perfect family hideaway to discover the medieval city and its rural surroundings.
Reviewed by: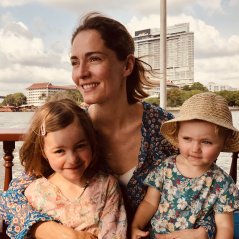 Annika Herting
Community Growth & Brand Ambassador
Dive deeper
We know our destinations from top to toe. Get in touch and we´ll put together your perfect holiday plan.
Where to stay in Lübeck?
We´ve personally visited every one of our sustainable and stylish properties, finding the very best family hotels and villas.