47°45'N 2°22'E
Loire Valley
France´s Hidden Gem – The Loire Valley
Why Loire Valley?
Life is sweet in the Loire Valley – excellent food and wine, numerous castles and pristine landscapes make the Loire Valley the most French region of France. With 1012 kilometers the Loire is the longest river in France. In the southeast of the Loire Valley, the deep forest area of the Sologne spreads out with its numerous lakes and ponds. In former times it was the favourite hunting ground of the French kings. To the west of the Beauce and the Sologne, numerous castles, forests and villages lead to the Touraine, the heart of the Loire Valley. Touraine, also called the "Garden of France", is characterized by its chalk plateaus, its mild climate and a lovely tranquil landscape. The French kings settled here and it is the area with most of the castles of France. The central part of the river valley, between Chalonnes-sur-Loire and Sully-sur-Loire belongs to the Unesco World Heritage Sites.
Why is Loire Valley perfect for families?
The Loire Valley offers a wide range of activities for families. Many castles have special entertaining visits that are ideally suited for children. At the Villesavin Castle Museum children will discover all aspects of rural life through a mini-farm. The castle of Meung-sur-Loire and the fortress of Montbazon offer many historical events and workshops where children can learn about medieval trades and games.
Other activities can include a visit to the astonishing underground caves Troglodyte, a bike trip along the Loire or an adventurous tour to one of the several tree climbing courses. Not to forget the countryside. There is plenty of untouched nature to explore and discover.
But the best for a family-friendly vacation: the Loire Valley can be reached easily and quickly from Germany, Belgium and Switzerland. For example, Orléans is located about only 450 kilometers from Brussels, 650 kilometers from Cologne or Zurich and about 700 km from Frankfurt.
Reviewed by: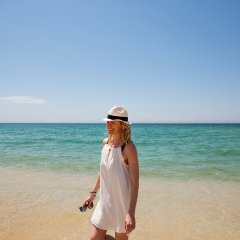 Kerstin Bognár
CEO and Founder
Dive deeper
We know our destinations from top to toe. Get in touch and we´ll put together your perfect holiday plan.
Where to stay in Loire Valley?
We´ve personally visited every one of our sustainable and stylish properties, finding the very best family hotels and villas.