Why Lisbon?
In recent years Lisbon has become one of the most popular city travel destinations in Europe. For a good reason: Lisbon is safe, creative, lively and has a beautiful cityscape. Built on seven hills the city provides a breezy sea view wherever you are.
Niche Junior says
We value our kids opinions - which is why we introduced Niche Junior, giving our little travellers a platform:
It was fun to ride up the steep hills on the tram. The castle was really great and we loved to sit on the old cannons and look over the city. But best of all when we are in Portugal is eating Tosta Mista.
– Jimi and Arturo, 11, from Germany
Why is Lisbon perfect for families?
In Lisbon, the creative, the independent, the family-run is still the norm and not the exception. Strolling through neighbourhoods like Amoreiras you will find cosy cafes, inspiring shops, beautiful parks and unexpected museums. The most charming way to tick off a few sights is by riding the number 28 yellow tram as it rumbles through Lisbon's prettiest and most historic streets. Dealt the coolest neighbourhood in Lisbon Príncipe Real is the most open-minded, bohemian corner of the city and the perfect place to relax in the shade of a tree and watch the world go by.
This destination is featured by: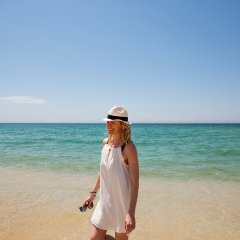 Kerstin Bognár
CEO and Founder
Dive deeper.
Lisbon has so much more to offer. As do we. Send us an enquiry and we will provide you a detailed and individual guide for your vacation.
Where to stay in Lisbon?
We´ve personally visited every one of our sustainable and stylish properties, finding the very best family hotels and villas.
Hotel

Portugal

Martinhal Chiado

Rua das Flores, Lisbon

We love: the thoughtfulness in every detail, the stylish accommodation yet designed with little ones in mind, the location in the heart of Lisbon, the supervised kids club till late, the colourful and spacious rooms, the modern interior