Why Hamburg?
Hamburg is one of Germany's most vibrant cities (it's also the HQ of The Niche Traveller!) with a maritime history and stylish, gritty feel that makes it one of Europe's coolest places to visit. With exciting neighbourhoods to explore, a vast working harbour and a staggeringly impressive music scene, there's plenty to keep families busy. First stop should be the Hafencity development on the Grasbrook peninsula, home to the striking Elbe Philharmonic Hall (known as the Elphi) opened in 2017 as one of the largest concert halls in the world and cementing Hamburg's position as the musical heart of Germany. Located on the Grasbrook peninsula near the Speicherstadt and the harbour, the area is famous for its unique historical warehouses which have evolved into one of Hamburg chicest areas featuring museums, hotels, boutiques, cultural events and two very cool Michelin-starred restaurants: The Table by Kevin Fehling and 100/200 Kitchen.
Two more exciting areas if you are travelling to Hamburg with kids are the Stadtpark (for fresh air, long walks and star chasing) and the area around Großneumarkt in Hamburg's old town (for a shopping spree). Stroll around Poolstraße and Kohlhöfen and you'll find the best ice cream maker, a lovely stationery shop, upcoming art galleries, concept stores and kids' clothes boutiques.
Why is Hamburg perfect for families?
Visiting Hamburg with children is fun and easy, with a huge range of activities to keep everyone happy. There is a lot of water around, including the beautiful Alster lake, the harbour and a warren of canals and bridges – there are more of both here than in Venice – plus also beaches and beach clubs, as well as everything from canoeing and sailing to stand-up paddle-boarding. The Miniatur Wunderland, meanwhile, is the largest model railway museum in the world and a huge hit with kids. If you fancy a day trip, take the fast ferry to Helgoland, an island in the North Sea set 70 kilometers offshore and offering beautiful red cliffs and sandy beaches.
A few other top things to do with kids in Hamburg are a visit to the Observatory, a wander around the Maritime Museum in the Hafencity, and you must try to catch a performance by the internationally-renowned Hamburg Ballet under the artistic direction of John Neumeier. We promise your family will love it.
Reviewed by: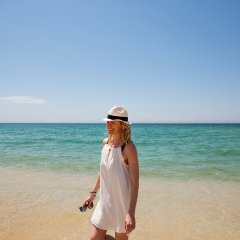 Kerstin Bognár
CEO and Founder
Dive deeper
We know our destinations from top to toe. Get in touch and we´ll put together your perfect holiday plan.
Where to stay in Hamburg?
We´ve personally visited every one of our sustainable and stylish properties, finding the very best family hotels and villas.