54°50'N 9°32'E
Glücksburg
Why Glücksburg?
Located right opposite the Danish coast, the calm ripples of Flensburg Fjord, the long beaches of the Baltic, and the wide meadows and peaceful forests of the Glücksburg peninsula all combine to create a delightfully relaxing, rural break. The moated, sugar-white castle – dating from 1587 and once home to the Dukes of Glücksburg and the Danish Royal family – is a highlight, as are the idyllic beaches, known for their sandy nooks, high cliffs and tree-backed shores, where the branches dip lazily into the water.
Why is Glücksburg perfect for families?
Glück means "happiness" in German, and it's easy to find just that here. There are long, leisurely walks by the sea, and lazy days on the beach watching the kids build sandcastles while you relax in a beach chair. You can take a fairytale tour around the bright-white Glücksburg Castle. Cold days can be enjoyed splashing in the Fjord thermal baths while the north wind howls outside, or spend a few hours gazing at the stars in the planetarium. And there's always the chance to head over to Denmark...
Reviewed by: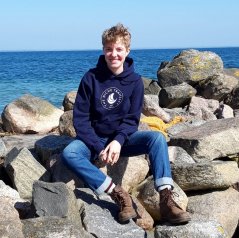 Josephine Bartels
Content Team & Travel Scout
Dive deeper
We know our destinations from top to toe. Get in touch and we´ll put together your perfect holiday plan.
Where to stay in Glücksburg?
We´ve personally visited every one of our sustainable and stylish properties, finding the very best family hotels and villas.