54°47'N 9°55'E
Gelting Bay
Why Gelting Bay?
Deserted white-sand beaches, rustic windmills and endless sea views from the famous candy-striped lighthouse: Gelting Bay is a secret gem of a seaside escape, an unspoilt salt-washed idyl on Germany's pristine Baltic coast. Denmark is just across shimmering Flensburger Fjord, while the interior is awash with flowering fields, organic farm shops and picturesque, thatched-roofed accommodation.
Why is Gelting Bay perfect for families?
The pace of life is slower here, just made for laid-back family adventures. There is kitesurfing in Wackerbay, biking past windmills, gentle hikes through the nature reserve, sailing lessons in Maasholm, or a relaxing afternoon on the lawns of the Gut Oehe café with coffee and homemade cake. The sea is always nearby, the soft sand perfect for sandcastles and beach picnics, while the shallows offer wonderful paddling for kids.
Safety first: During the current COVID-19 pandemic, the health and safety of our clients is our top priority. For urgent health services, please contact your usual doctor. If you don't have a doctor or medical contact person in Germany, please phone 112 in an emergency.
Schleswig-Holstein offers excellent medical services, with a number of hospitals in the area. Please keep safe – take care of yourself, your loved ones and others.
Reviewed by: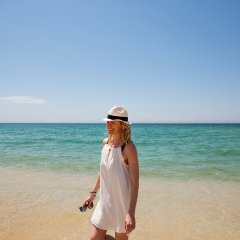 Kerstin Bognár
CEO and Founder
Dive deeper
We know our destinations from top to toe. Get in touch and we´ll put together your perfect holiday plan.
Where to stay in Gelting Bay?
We´ve personally visited every one of our sustainable and stylish properties, finding the very best family hotels and villas.