Why Flensburg?
A small town, right in the north of Germany, Flensburg is only a stone's throw away from Denmark. Besides its Scandinavian charm, a walk through town with its maritime harbor, colorful cottages, enchanting old alleys and winding lanes entice even resistant romantics. In between quaint cafés and shops are a welcome rest for tired legs or some variety to look around. The "Red Street" also known as Flensburg´s jewelry box is an inviting old lane to explore museums, shops or cafés.
Also whilst in the northern part of the old town, don't miss a visit to the Oluf-Samson-Gang which is a small alleyway busting with history.
Why is Flensburg perfect for families?
An activity in town especially loved by families can be discovered at the "Phaenomenta" where children and parents alike can interactively experience the connections between science and technology. Flensburg with its location at the Fjord and close proximity to the Baltic Sea or the Danish islands of is perfect for an assortment of outdoor activities. For a day trip explore the family-friendly beach Langballigau or go on a boat trip with the historical steamship Alexandra.
For a truly unique family experience book a seaplane flight and you will see Flensburg, the coast of Germany and Denmark´s lovely islands like Kegnaes from above.
Reviewed by: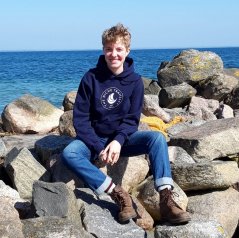 Josephine Bartels
Content Team & Travel Scout
Dive deeper
We know our destinations from top to toe. Get in touch and we´ll put together your perfect holiday plan.
Where to stay in Flensburg?
We´ve personally visited every one of our sustainable and stylish properties, finding the very best family hotels and villas.