Portugal´s surf spot Ericeira is becoming hip
Why Ericeira?
Once popular only with surfers, the Portuguese coastal town of Ericeira is gradually becoming a sought-after destination for families and digital nomads. The mix of sports and culture, a charming and cobbled city centre and a lively gastro and art scene are increasingly attracting young travellers who want a sophisticated individual holiday and holistic relaxation. Ericeira is also a world-renowned surfing destination and the multitude of magnificent beaches in and around the city make it easy for beginners to learn to surf. There are several surf schools in the area offering courses for all levels.

Why is Ericeira perfect for families?
Within easy reach, the upcoming coastal town of Ericeira is only about 45 minutes by car from Lisbon. The combination of cliffs, bays, great beaches and casual beach restaurants offers plenty of variety and enough space to satisfy the adventurous spirit of young and old alike. The opening of several new design hotels on the coast north of the city, as well as family-friendly surf lodges, offer a wide range of appealing accommodation. In addition, Ericeira is the perfect starting point to discover other beautiful corners along the coast as well as in the countryside.
For the best sunset, have a drink on the terrace of newly opened Aethos Ericeira and choose the hotel´s own restaurant Onda for dinner. The prime location high on the cliffs is unique, the view over the Atlantic is simply amazing. For delicious fish and tasty oysters, head to Praia de Sao Lourenco and dine at Restaurante Golfinho Azul.
A great beach for surfing and hanging out is Praia Ribeira d`Ilhas. Choose the beautiful shop Saints at Sea for some cool souvenir shopping and try fantastic and vegan friendly bakery Terco do Meio for breakfast, snacks and baked delicacies.
Reviewed by: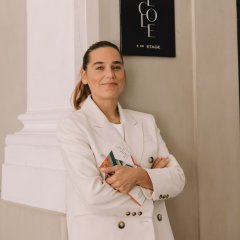 Dive deeper
We know our destinations from top to toe. Get in touch and we´ll put together your perfect holiday plan.
Where to stay in Ericeira?
We´ve personally visited every one of our sustainable and stylish properties, finding the very best family hotels and villas.