Crete with kids: Beaches, Accommodations & Co
Why Crete?
The north coast of the island is home to great and sustainable new hotel concepts such as the family-friendly Cretan Malia Park and the Royal Senses Resort. South Cretes secluded dream beaches welcome you almost year-round with mild temperatures - here tourism is still sleeping. Dip into the turquoise-blue water of famous "Preveli Beach" and get entertained long sunset with cool drinks at a nice beach bar. Discover charming old villages that still retain its authentic charm, such as Pitsidia - a legendary hippie spot and art village or enjoy a delicious meal with your family in a traditional greek tavern. There is so much to discover – old and new, endearing and surprising, that you won't do it all in a single visit. Just 75 kms from Heraklion airport, South Crete can easily be reached by car within one hour.
Niche Junior says
We value our kids opinions - which is why we introduced Niche Junior, giving our little travellers a platform:
I love Komos Beach because it is not so crowded. Our friend Manolis runs the "Bunga Bar" where you can eat with your feet in the sand and play with his cute Dog Fidel. In the afternoons we usually go to Komos Beach Bar. My dad always drinks his "Affogato" - an espresso with a scoop of vanilla ice cream but I prefer the milkshake.
– Lou, 11, from Germany
Why is Crete perfect for families?
Whether you like to relax or explore the natural beauty of South Crete, there is something for every taste and age. Explore beautiful family friendly beaches, build sand castles or enjoy snorkeling at Souda Beach. Animal lovers should visit Donkey Park, a unique sanctuary that has evolved since into a small zoo or go horse riding through the stunning dunes of Komos Beach at the Melanouri Rider Farm. If your family is up for more action a hike through the wonderful gorges and climbing crests is a real highlight.
Reviewed by: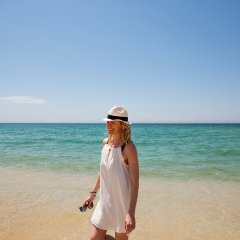 Kerstin Bognár
CEO and Founder
Dive deeper
We know our destinations from top to toe. Get in touch and we´ll put together your perfect holiday plan.
Where to stay in Crete?
We´ve personally visited every one of our sustainable and stylish properties, finding the very best family hotels and villas.