Travel to Costa Rica with kids
Why Costa Rica?
When winter's chill settles in and the days grow shorter, the desire to escape to warmer destinations becomes almost irresistible. Enter Costa Rica, a tropical paradise that consistently ranks as one of the most sought-after winter sun travel destinations. With its stunning landscapes, abundant wildlife, and welcoming culture, Costa Rica has something to offer every traveler seeking respite from the cold and gray of winter. It's location near the equator ensures consistent warm temperatures and ample sunshine throughout the year. Even during the heart of winter, you can bask in the sun's glow, making it an ideal destination for those in search of Vitamin D therapy.
For a relatively small country, Costa Rica boasts an astonishing variety of landscapes. From the white-sand beaches of the Pacific and Caribbean coasts to the misty cloud forests of Monteverde and the rugged volcanic terrain of Arenal, you can find diverse ecosystems within a few hours' drive. The ability to explore mountains, jungles, and coastlines all in one trip makes Costa Rica a unique destination for nature lovers.
Costa Rica is home to an astonishing array of wildlife, making it a top destination for eco-tourism. With over 5% of the world's known species, you can encounter exotic creatures like sloths, toucans, howler monkeys, and colorful tree frogs. National parks and wildlife reserves, such as Manuel Antonio and Corcovado, offer incredible opportunities for wildlife enthusiasts to observe animals in their natural habitats.
For the adventurous traveller, Costa Rica is a playground like no other. Whether it's zip-lining through the rainforest canopy, surfing Pacific waves, white-water rafting, or hiking up an active volcano, there's no shortage of adrenaline-pumping activities to keep you engaged. The country's commitment to sustainable tourism ensures that you can enjoy these adventures responsibly.
Costa Rica's "Pura Vida" lifestyle, which translates to "pure life," encapsulates the country's friendly and laid-back vibe. Locals are known for their warm hospitality, and you'll quickly find yourself immersed in a culture that values happiness, gratitude, and the simple joys of life. From savoring delicious local cuisine to dancing to Latin rhythms, the Costa Rican way of life is infectious.
Why is Costa Rica perfect for families?
Costa Ricans are known for their warmth and friendliness. The country's family-oriented culture ensures that children are welcomed everywhere, making it easy for families to feel comfortable and at home. With coastlines along both the Pacific and Caribbean, Costa Rica boasts a variety of beautiful beaches. Families can relax on golden sands, swim in clear waters, and even try their hand at surfing or snorkeling. While Costa Rica is well-known for its popular surf destinations like Tamarindo, Jacó, and Santa Teresa, there are some hidden gems off the beaten track that offer incredible surfing experiences with fewer crowds. If you're looking for less crowded surf spots suitable for beginners and advanced surfer make sure to check Playa Hermosa, Punta Banco or Cabo Matapalo of your list.
If you want to take a break from beach life: The country's extraordinary biodiversity is a natural wonderland for kids. Children can witness exotic animals like monkeys, sloths, toucans, and colorful frogs in their natural habitats, fostering a love for wildlife and conservation. Costa Rica is one of the safest countries in Central America, making it an ideal choice for families. You can explore its natural wonders and cities with peace of mind, knowing that safety is a top priority.
Exploring lush rainforests and discovering hidden waterfalls can be a magical experience for children. Costa Rica's national parks, such as Arenal and Monteverde, offer thrilling canopy tours and hiking opportunities.
While Costa Rican cuisine may not be as exotic as some other destinations, it's generally mild and kid-friendly. Children can savor delicious rice and beans (gallo pinto), tropical fruits, and tasty empanadas.
Reviewed by: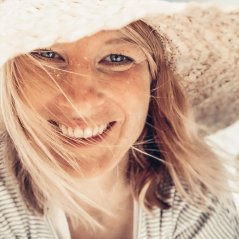 Kirsten Lindemann
Travel Designer
Dive deeper
We know our destinations from top to toe. Get in touch and we´ll put together your perfect holiday plan.
Where to stay in Costa Rica?
We´ve personally visited every one of our sustainable and stylish properties, finding the very best family hotels and villas.