Corsica with Kids: The Best New Hotels and Travel Tips
Why Corsica?
Corsica is a natural paradise and offers wild mountain landscapes with amazing viewpoints, ideal conditions for cycling and hiking, sailing, diving and waterskiing. Beautiful remote beaches invite you to relax and charming old villages are waiting to be discovered. Stroll around the old fishing village of Erbalunga and don't miss to have lunch on the terrace of Michelin starred restaurant Le Pirate, which is located on the edge of the harbor.
Niche Junior says
We value our kids opinions - which is why we introduced Niche Junior, giving our little travellers a platform:
The pancakes were so delicious and I loved our two storied house. However, what I found most fun was harvesting on my own in the vegetable garden and catching small crabs and fish with the landing net on the wild beach.
– Leo, 5 years, from Germany
Why is Corsica perfect for families?
Getting back to nature is the big draw here! Relax on remote sandy beaches, dip into turquoise blue water, go for a snorkeling adventure or enjoy delicious food at the beach restaurant La Cabane du Lodu. The untouched landscape with its diverse flora (wildflowers, dog roses, orchids, broom and herbs) make this place a heaven for nature lovers and mini-explorers. Visit the most secluded beaches like Plage de Lotu or Saleccia Beach with taxi boats that drop you of right at the shore. Another highlight - a trip on the corniche road along the western cape of Cap Corse, one of Europe's most beautiful and dramatic drives.
Reviewed by: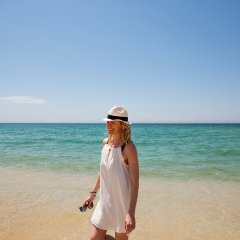 Kerstin Bognár
CEO and Founder
Dive deeper
We know our destinations from top to toe. Get in touch and we´ll put together your perfect holiday plan.
Where to stay in Corsica?
We´ve personally visited every one of our sustainable and stylish properties, finding the very best family hotels and villas.