Comporta with Kids – The Best Travel Tips
Why Comporta?
Endless, dune-backed beaches, lush paddy fields, cork forests and umbrella-pine-lined roads: Comporta is Portugal's most laid-back beach retreat, a bare-foot destination that is as chic as it is family-friendly. Just an hour's drive from Lisbon, this wild area is a true slice of Portugal at its untamed best.
Niche Junior says
We value our kids opinions - which is why we introduced Niche Junior, giving our little travellers a platform:
The restaurants are right on the beach, so after you've ordered, you can go straight to the beach and play until the food arrives. Surfing is really fun and the surf instructors are all really funny, especially Miquel, who always lifts us up on the surfboard and then throws us into the waves. The wilderness is amazing, there are great bike paths, and going on a tour with fishermen is really great because you can BBQ what you catch on an empty island.
– Jimi, 11, from Germany
Why is Comporta perfect for families?
This is the ideal place for families to kick back and relax. Pad about the sand dunes, take a dip, stroll along sandy lanes, snooze under a tree, and let the kids go free-range. Or if you want more action, try surfing in Carvalhal or stand-up paddle-boarding in Melides Lagoon with the lovely team of Surf in Comporta . Ride along the beach on a horse from Cavalos na Areia (Madonna's preferred stable) or try a yoga session at nearby Comporta Yoga Shala.
Reviewed by: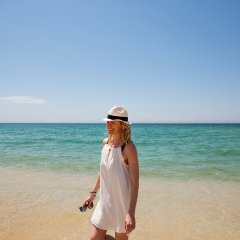 Kerstin Bognár
CEO and Founder
Dive deeper
We know our destinations from top to toe. Get in touch and we´ll put together your perfect holiday plan.
Where to stay in Comporta?
We´ve personally visited every one of our sustainable and stylish properties, finding the very best family hotels and villas.