Why Andros?
It is all about quietness and serenity! Gorgeous isolated beaches are only two hours away from the hustle and bustle of Athens. The second largest island of the Cyclades, has kept its remote charme and is still far away from the tourist boom. Immerse yourself into seafaring history and stroll around small villages flanked with bougainvillea. Andros with the colours of the Aegean Sea and Neoclassical culture has its own magic. If you are looking for hubbub and hip beach bars, offerings are scant. It's the sparkling starry sky that it offers in spades.
Niche Junior says
We value our kids opinions - which is why we introduced Niche Junior, giving our little travellers a platform:
Achla beach is fantastic. The area around is pure wilderness, you can play and run everywhere. We absolutely loved our tour with the motorboat to a secluded bay and the hike uphill with the hotel owner to a local farm, where we had lunch with the farmers.
– Aaron, 11, and Lenn, 9, from England
Why is Andros perfect for families?
Andros is diverse and full of natural wonders. Beautiful beaches and coves entice with their clear waters and offer families a true remote holiday escape. Visit the natural springs of "Menites" or the fairytale waterfalls of "Pytharas". For those who enjoy swimming in blissful solitude stop by "Achla", a remote beach which is considered to be the pearl of the island. For more action, discover Andros on hiking trails or channel the ocean god Poseidon by exploring the underwater world by diving. Another highlight is "Chora", with its modern greek restaurants, museums and some cool shops.
Reviewed by: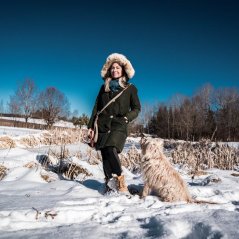 Tatjana Seel
Travel scout
Dive deeper
We know our destinations from top to toe. Get in touch and we´ll put together your perfect holiday plan.
Where to stay in Andros?
We´ve personally visited every one of our sustainable and stylish properties, finding the very best family hotels and villas.