Why this experience?
Play lighthouse keeper at this 150-year-old active lighthouse, a truly unforgettable family holiday experience. The lighthouse has been lovingly restored and now features cutting-edge chic interiors, a breathtaking infinity pool and extraordinary Atlantic Ocean views – with La Palma's famous banana plantations and wild coastline on your doorstep. It can be taken by room or as an exclusive rental, perfect for larger groups or families. The door to the lighthouse look-out is always open, with a circular terrace and chairs offering incredible views of wild waves tumbling against the jagged cliffs. Our lighthouse hideaway also has a yoga platform in the lush garden filled with indigenous plants.
Why is it perfect for families?
The lighthouse is ideal for multigenerational holidays, best suited to children aged six and over. Three stylish rooms, as well as the on-site private infinity pool and variety of activities in the area, will keep everyone happy, while the remoteness of the location offers excellent bonding time.
Where we offer this experience:
This active lighthouse is located on La Palma´s north-eastern-most point. La Palma, the greenest of the Canary Islands, off northwestern Africa, is known for its gorgeously varied landscapes, with deep forests, towering volcanoes and waterfalls. The island's capital is Santa Cruz de la Palma.
Niche-Junior sagt
Die Meinung unserer Kinder ist uns wichtig - deshalb haben wir Niche-Junior eingeführt, um unseren kleinen Reisenden eine große Stimme zu geben!:
Die Leuchtturm-Challenge ist ein großer Spaß: Sie müssen die 149 Stufen in weniger als einer Minute hinaufsteigen. Und die Aussicht von oben ist fantastisch, aber vielleicht nichts für Leute mit Höhenangst... Neben dem Leuchtturm gibt es eine kleine Insel namens Puerto Talavera, die nur von Fischern genutzt wird, also perfekt zum Spielen und Erkunden. Es war das erste Mal, dass wir in einem Leuchtturm übernachtet haben, und es war fantastisch, vor allem nachts, wenn der Turm leuchtet.
– Arturo, 11, aus Deutschland
Wo möchten Sie wohnen?
Die Auswahl unserer Unterkünfte folgt strengen Kriterien. Wir besuchen unsere Partner regelmäßig und halten enge Beziehungen zu den Ansprechpartnern vor Ort.
Dieses Erlebnis wurde getestet von: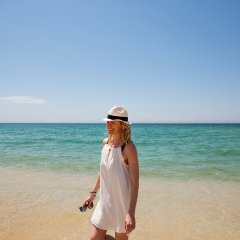 Kerstin Bognár
Gründerin und CEO
Mehr erfahren
Registrieren Sie sich für unsere Club-Mitgliedschaft und Sie erhalten eine persönliche Urlaubsberatung. Wir buchen für Sie, bieten Hotel-Empfehlungen, die Erstellung von Reiseplänen und geben hilfreiche Tipps und Informationen, die Ihnen viel Zeit und Recherche ersparen.