Why this experience?
Take time to breathe deep, relax and restore. This retreat, led by german yoga teacher Annika Isterling, takes place in the blissful rural surrounds of Craveiral. Making the most of its peaceful rural setting, the sustainable farmhouse feels authentic but up-to-the-minute, with soothing contemporary interiors. Surrounded by the breathtaking countryside of the Alentejo, the 9 hectares include shady forests, a small farm and an organic garden where guests can pick vegetables and fruit. There is an indoor and outdoor pool for lazy afternoons, while the gentle yoga sessions are perfect for those that want to feel grounded, calm and relaxed. Meals are locally sourced, organic, vegetarian – and completely delicious.
Our yoga retreat takes place from May 20th to 24th 2020 and offers a four-night stay in a double room/studio with a rich breakfast, coffee breaks with energizing fruits and a vegetarian dinner for 504 Euro per person, the stay in a single room for 721 Euro per Person.
Why is it perfect for families?
There's so much more than yoga… Craveiral, your home for the holiday, is brilliant for families, with enough wilderness and adventure for kids to (safely) run free while you enjoy the yoga sessions. There are woods to explore, animals to feed, horses and donkeys to ride, bikes to tear around the grounds, and the lovely swimming pools to splash about in. Smaller children can be supervised or entertained by an on-demand nanny service.
Where we offer this experience:
Situated in São Teotónio, around one hour south of Comporta and just 15 minutes away from Costa Vicentina's most beautiful beaches, the Craveiral hotel lies in the heart of the astonishing landscape of the Alentejo. With a selection of studios, one- and two-bedroom houses and farm lofts, interiors are breezy and rural-chic, dotted around a huge countryside estate. With swimming pools, a farm, organic garden and farm-to-table restaurant, as well as countless child-friendly activities and a nearby beach, there is plenty on offer to keep everyone happy.
Our Founder says
Kerstin Bognár, Founder and CEO of The Niche Traveller had this to say about Yoga Retreat Portugal:
I discovered Craveiral farm hotel in Autumn 2019 and immediately felt the good energy of its grounds. It's a super family-friendly location, but still wild, calm and affordable. The area has the potential to become the next Comporta. This retreat is a collaboration with yoga expert – and longtime friend – Annika Isterling, offering a one-of-a-kind experience.
– Kerstin, CEO and Founder of The Niche Traveller
Where to stay?
We´ve personally visited every one of our sustainable and stylish properties, finding the very best family hotels and villas.
This experience is featured by: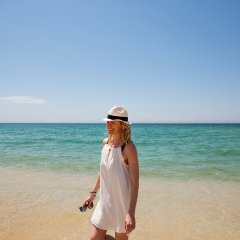 Kerstin Bognár
CEO and Founder
Learn more
Ask us about Yoga Retreat Portugal or our other experiences. We provide detailed information so you can decide which one is the best for you and your family.