Why this experience?
Quality time with our children is a luxury, especially when you have two or more kids. It is great to split sometimes so that you can focus on one of them. Spending this special girls weekend in a beautiful hotel like the Hôtel des Grands Boulevards makes your trip even more exciting and relaxing. Fall in love with the grandiose yet rustic aesthetic of this beautiful place designed by French interior designer Dorothée Meilichzon and feel like princesses, sleeping in canopy beds.
Why is it perfect for families?
The capital of France is the perfect place for strolling around, doing shopping and visiting museums. In the Marais there are some cool shops, like Bonton or Soeur for example, where you can find stylish clothes for both, mommy and daughter. Paris also makes sightseeing very easy because it is beautiful, dreamy and romantic and no matter where you go you feel like in a movie. That's the magic of Paris.
Where we offer this experience:
Situated at 17, Boulevard Poissonnière the Hotel des Grands Boulevards is situated in the heart of Paris. Many places are in walking distance like the Opera, the Louvre Museum or the Centre Pompidou. The metro station Grands Boulevards with its lines 8 and 9 is literally in front of the hotel and brings you to the Eiffel Tower in 20 or the Marais in 10 minutes. Besides the hotel is a cosy, family friendly yet super fancy place – and that's great! Being a mom doesn't mean you are boring, right? So when your princess is sleeping you can switch on the baby phone and have a drink at the bar's restaurant.
Niche Junior says
We value our kids opinions - which is why we introduced Niche Junior, giving our little travellers a platform:
I loved spending some time alone with my mom, because my little brothers are quite annoying. For once we could only do things we liked. Our hotel was so pretty and nicely decorated, that I could have stayed here forever. The thing I liked the most was the canopy bed of our room and the little sweets they brought us in the evening
– Adèle, 7, from France
Where to stay?
We´ve personally visited every one of our sustainable and stylish properties, finding the very best family hotels and villas.
Hotel

France

Hôtel des Grands Boulevards

Paris, France

We love: the grandiose yet rustic aesthetic of this beautiful place designed by French interior designer Dorothée Meilichzon, the combination of cosy, family friendly and yet super fancy, the perfect location in the heart of Paris on Boulevard Poissonnière, the very welcoming and charming hotel employees.
This experience is featured by: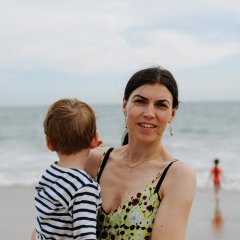 Estelle Marandon
Travel scout
Learn more
Ask us about A mother daughter trip to Paris or our other experiences. We provide detailed information so you can decide which one is the best for you and your family.