Why Föhr?
The unassuming little sister island of Sylt and Amrum, Föhr has an off-the-radar personality all of its own. The climate is gentler, the waves more modest, and the feeling is one of laid-back summer vibes, where days are spent on the beach, in the water or trundling on bikes past historic villages. These date back to the Middle Ages, including the cobble-stoned village of Nieblum with its captains' cottages once home to whalers. But it was the Danish King Christian VIII who put the island on the holiday map when he made it his summer residence in the 19th century.
Why is Föhr perfect for families?
Föhr is all about the beach. Stroll from Wyk along the Südstrand to find your favourite spot and settle in for a day on the soft sand. If you want to try your hand at kite- or windsurfing, head to the NWS watersports school, while the surf school is down at Nieblumer beach and very close to the Goting Kliff. Don't miss the medieval village of Nieblum, visit the candle barn, try a delicious slice of vegan cake and end the day with a cosy dinner at Altes Landhaus. Summer evenings can be spent on the beach; the little Saimons restaurant will provide you with their "Fish Konfekt" to go – perfect for an al fresco picnic. If the weather turns, head to the Museum Kunst der Westküste or borrow a board game from Schaukelpferd and head back to your own cosy cottage.
Reviewed by: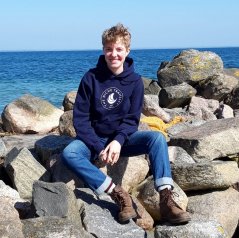 Josephine Bartels
Content Team & Travel Scout
Dive deeper
We know our destinations from top to toe. Get in touch and we´ll put together your perfect holiday plan.